Drawing on my skills and experience as a swimmer, swim coach, improvement advisor, and movement coach, my passion is to help individuals to find ways to improve their movement both in and out of the water. 
Whether they start from a state of pain or injury, or simply the belief that they could move and/or swim better, by analysing joint mechanics and motor responses I can help empower people to unravel unhelpful movement patterns, and to establish more effective movement patterns with less discomfort.
Depending on an individual's goals, this may lead to better day to day movement, reduction in pain, swimming with more speed or less effort, or working towards new challenges in other sports while minimising the risk of injury.
I work with clients face-to-face and online, so I can work with you wherever you are in the world.
In working collaboratively with individuals to work out how they can best help themselves, I apply the principles and methods of Anatomy in Motion, Pain Reprocessing Therapy, Explain Pain, Graded Motor Imagery, and Reflex Integration.  As a Polyvagal Informed coach, I will help you to develop strategies to adapt your physiology to find safety, comfort and control to optimise performance and resilience in your chosen field of activity.  You may wish to find out more about the approaches I use before booking your first session.  For example, you could follow one of the Anatomy in Motion online video courses, Wake Your Body Up or Wake Your Feet Up, or read about Explain Pain or Graded Motor Imagery.
If your priority is swimming, or rehabilitation in the pool, you may choose to begin with pool or dry land sessions, and we will together devise a programme that could integrate dry land with pool activities in the same session, or across separate sessions.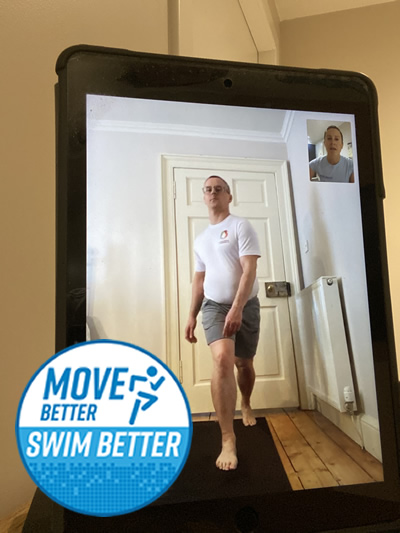 We need to start by exploring your currently available joint motions, movement preferences, and posture, and your experience of pain.  The day to day activity of walking involves movement in every joint in three dimensions in each step; movement in one joint will have an impact on other joints.  For example, if you have one joint in the foot that does not access its potential full range of movement, it will impact on the quality of movement along a chain to the knees, hips, pelvis, spine, ribcage, shoulders, head, arms, hands … so you may feel discomfort or restriction in movement at any point along that chain.
While there is much that is different in swimming (a horizontal body position, in water), the movement that you have access to in different parts of your body, and the movement patterns that you can move between, will be based on the movements that you can access on dry land.
To help me to prepare so you'll get the most out of your time with me, it's best for me to see what your body currently does in day to day movement, before your first session.  I will ask you to send me two things, which I will analyse in advance to save time on the day:
(1)    A written history of your body.  Please include anything injury, illness, or surgery related that's happened over your lifetime, anything that hurt or made you feel bad, even if you don't think it has anything to do with the reason you have decided to come to see me.  Make sure you mention if it was on the left or right side!  This history can be as long or as short as you think is appropriate; anything you think of, write down.
(2)    A video of you walking up and down in a straight line a few times, from front and back, with bare feet; send this to me on WhatsApp.  If you can also video from the side, that would be even better.
If the session is to be online I will send you a link in the 24 hours before the session.
Most of the session will be taken up with assessment and analysis, so we can both understand your body better. This will lead to identifying the most effective movement patterns for you to practise as well as other homework tasks such as motor imagery, aiming to stimulate changes in your joint mechanics and to diminish persisting pain.
We will work together collaboratively to find the best way for you to help yourself.  I will encourage you to ask questions, to make sure that by the end of the session you understand what to practise, how to do movement and other exercises most effectively, and why each one is helpful.  You will then be taking control of making the changes in your own body.
As we go through the session we will continually re-assess to find what changes you have created so far.
By the end of the session, you will have an individualised homework programme consisting of a small number of exercises.  Each movement exercise will require a few reps (usually between 3 – 6), keeping the number low to ensure that each one is of high quality and your brain remains focussed.
It is important that you are able to commit to doing your movement homework regularly – preferably daily, with a minimum of 5 times a week.   You should only begin this journey into improved movement when you are confident you have time for the homework as well as the coached sessions.
After each session, I will send you videos of your movement homework on WhatsApp, as well as written details of other homework activities.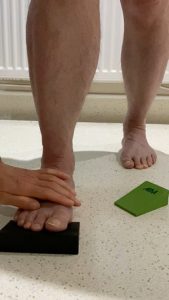 I recommend that we communicate between sessions, so I can answer your questions and you can get reassurance that you are doing your homework correctly.  For example, I may analyse further videos that you send me.
By the end of the first session it will be clear if another is appropriate, and if so, what duration of session would make most sense.  Most clients return for a few follow up sessions over the next few months; some return to continue to discover more and more about their body and set new personal goals.
An initial 2 hour session is the minimum duration to allow us to collect data, formulate a working hypothesis, and start testing stimuli for improved movement in a way that logically follows from that.  You choose how much time and money you want to spend on future sessions: with more time, we get more done.
After your first session, for some of your movement exploration and homework it is best if you use Anatomy in Motion wedges.  If your session is face-to-face you can buy these from me; if your sessions are online you can buy them from here.
Vouchers can be provided for all Edinburgh Swim Studio services