About your sessions
While most lesson time is spent in the pool, most swimmers benefit from dry land exercises that draw on a range of methods to improve access to the movements that help swimming.  Swimming sessions often involve dry land assessment and exercises (which should be repeated regularly at home), and clients also have the option of coached movement sessions scheduled separately from their sessions in the pool.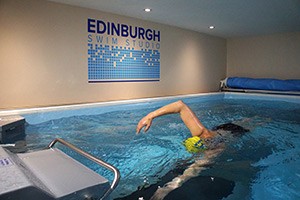 The pool is 14 feet long, 8 feet wide and 4 feet deep. When you are not swimming you can touch the floor anywhere in the pool, or take a break on the in-pool benches. Your coach is never more than an arm's length away.
Seating beside the pool is available for parents bringing children for lessons.
Accessible shower and changing facilities include towels, shampoo and swimsuit dryer.
Our Endless Pool has a swim current that is adjustable from zero to race pace, so you swim at a pace that is right for you.
What to bring
Swimming costume
Goggles
Swimming hat
Flip-flops/pool shoes